THIS IS WHAT HAD BEEN MISSING—FUN! (guest post)
"I've rebuilt my life — one I no longer watch pass me by while I'm hungover on the couch."
Karla first showed up to a Bridge Club event sometime last year (when we were still in person!). Tiny-but-mighty, with bright eyes and cute-as-hell style, I was struck by the candor, clarity and authenticity of her voice. With her creation of SoberIRL, it's been a total joy and massive inspiration to see Karla's vision of community come to life.
It's my honor to share her story with you today.
---
The night of December 30th, 2018 I had my last drink. Over the previous decade-plus, after nights I lost total control of my drinking, I would think, "I can't do this to myself anymore" until, inevitably, it would happen again. Those nights would be followed by days full of shame, guilt, and remorse, that only added to the physical pain of a hangover. When the morning of the 31st rolled around, I felt like nothing more than a congealed blob on the couch. My partner and I had made plans to attend a house party to celebrate New Years Eve, but by the early evening I still wasn't well enough to get up and get dressed. I got a kiss on the forehead and he left without me.
On the cusp of a new year, I wondered how many more times I would find myself in the same position. In the three years prior, especially the year before, I had varying levels of success with moderating and abstaining. To be honest, I'd always held out hope that those attempts would be a reset to "normal" drinking, and not a lifelong commitment to sobriety. It was also true that I had reached the end of the line when it came to drinking. At the time, the idea of being "a sober person" felt like a death, but that's the choice I had to make.
I was angry and scared on Day 1. Angry because I felt deprived, like I was being punished for taking things too far. Scared because I had no idea what I was doing and felt so alone because I didn't know anyone who was sober. Thirty days later, the anger had subsided, but the fear was still there. I felt isolated: Declining invites to dinner and happy hours, and spending more time with myself than ever. My original skepticism around the possibility of having a happy sober life was being validated. And, I had to admit that even this life felt better than waking up another day feeling the confusion and anxiety after a night of drinking. 
As the symptoms of Post-Acute Withdrawal Syndrome started to lift, I started reading for the first time in years. First there was This Naked Mind, then Alcohol Explained, then Sober Curious, then Never Enough. Each book was paired with past podcast episodes of Recovery Happy Hour. As I learned more about addiction, the brain, and Big Alcohol, I began to understand I was not flawed—my brain had just been hijacked by booze. I settled into my new life. By month six, I was ready to do more than go to work and consume "Quit Lit". When I got an email from Tempest that there was an upcoming Bridge Club meeting for women in San Francisco, I knew I wanted to attend. 
The memory of what happened at the first meeting feels blurry, but what is crystal clear in my mind is how I felt walking out. All the nerves and questions I had leading up to it were gone, and even better, I had found "my people." I felt at peace. I wasn't alone in recovery: I'd found people who understood what I was going through, who didn't judge, who didn't make me feel broken, and to whom I didn't have to explain that "No, I can't have 'just one'". Simply sitting in that room was healing magic. It was the first step in finding community which has since become the cornerstone of my recovery.
With the boost of confidence from Bridge Club, I took another major step: Booking a trip to a recovery retreat in Montana at eight months sober. This time it came with a financial investment and requesting time off work for a "wellness retreat." As soon as I stepped off the plane and made my way to the shuttle stop, my stomach turned into a giant knot. What was I doing and why did I think this was a good idea!? I retreated inward, feeling frozen even if all someone asked was my name. I am certain the only words I uttered in those first few hours were "Karla" and "San Francisco" while frantically texting my sister. Her advice? If you want the experience to be meaningful, you have to be the one to make the effort. It was the message I needed. For too long I had stood on the sidelines of my own life and now I had the opportunity to rebuild it differently.
That first night I couldn't sleep. I stepped into the common room to read and there began my first real conversation with another attendee. To my surprise, it was effortless! And enjoyable! My guard came down. Two hours later, exhausted and content, I went to sleep. The next morning I felt different about the whole thing and ready to make the effort. Instead of watching people fill up seats and strategizing where to sit, I walked up to the front row and introduced myself to the people to the left and right of me. Instead of being a bystander I was actively participating. It culminated at the group picnic where somehow singing along to the lyrics of "Shoop" by Salt N Pepa turned into a full blown dance party. THIS IS WHAT HAD BEEN MISSING — FUN! Just legitimate joy and happiness. I felt that spark of life again, one that had been dulled by alcohol and that I thought I'd never feel again. And I wasn't talking about the bad things I had done in my past, or sitting in a pool of heavy emotions: I was having fun.
I came back from Montana with a brighter smile on my face. People could see the shift in me at work (I'm sure they figured I was rejuvenated from yoga and meditating for hours or whatever else people do at a wellness retreat). There had been a fundamental shift where the shame and pain of having a drinking problem was lifted and I could think about what was next for me and my recovery. I no longer felt like I had to protect myself from real life and stay insulated at home. I started going back to happy hour at work and saying yes to dinner invites. I could socialize without alcohol as a crutch and I was ready for more!
When the next New Year's Eve rolled around, I couldn't believe it. A whole year had gone by without a drink, without a hangover, without waking up in a panic trying to piece together what I had done the night before. I took some time to reflect on the previous 365 days. I felt so different, like I had lived a lifetime in a year. I opened up a word document and started to free-write on what I was looking forward to for next 365. I kept thinking back to Montana, and how the experience of fun with other sober people was the tipping point in feeling empowered by sobriety. Could I pay it forward, and create a space that was safe and welcoming—and more importantly, fun—for other women in sobriety? The idea for SoberIRL (in real life) came through: An opportunity to meet up locally in San Francisco for an activity, with no pressure to talk about how long you've been alcohol-free, or dive into what's currently worrying you. A place where we could leave our past behind and focus on finding joy in the present.
Though I had already become vocal about my recovery on Instagram and had built a network on social media, I knew my next step was to make some IRL connections. I decided to find some sober friends to grab coffee with and invite to Laura McKowen's upcoming book launch stop in San Francisco. I put the invitation out there as a test to see if people would respond and show up. The answer was yes, to both! Next up: Would anyone be up for an urban hike and a picnic? The answer: Yes!
I was astounded. Not only did people show up, they also wanted to sign up for the next event. It was really happening. I felt the same warm fuzzies as I did on retreat in Montana, which I know was a sign I was on the right path.
Then March 2020 rolled around, and COVID-19 upended everything. I had already planned out activities for the rest of the year: Mocktail making, how to make a macrame wall hanging, sober karaoke! But suddenly, none those things were going to happen—at least not in-person. I felt defeated. So I was surprised when the direct messages on Instagram started coming in: "Are you going to do virtual meet-ups?" This was unexpected. People were asking me to continue because they found value in the community space I had created. So I started a schedule for monthly virtual meetups. On Saturday mornings, eight-to-ten of us met up online, and since we're all local to the Bay Area, we talked about the fun stuff we could do once we could be in-person again. It wasn't my first choice, but a virtual community became a much needed retreat when the outside world felt unsafe.
Around July, I started getting messages again: "Any chance we could do a social-distanced event?" I couldn't believe it! And so I started thinking through activities with limited contact that could be done outside in a group. The messages from the community were nudges to keep going and to adapt—just as I had been doing since Day 1. Before the first social-distanced event in August, I realized I had gone from bystander, to participant, to leader. All those gradual baby steps had accumulated, and it was only when I stopped to reflect could I see how far I had come. The fear and worry I had always felt and had accepted as a fundamental part of me had actually dissolved, and turned into trust.
Finding, and then building, sober community has shifted the way I see myself in this world. I am no longer apologizing for taking up space and stepping out of the way for the comfort of others. Community provided the safe space I needed to reconnect with my silly, fun-loving self, and supported me when I felt like turning back. These days, community inspires me to see how much further I can go. Lastly, it's been the foundation on which I've rebuilt my life—one I no longer watch pass before me while hungover on the couch. I'm proud of all the moments I continued to push forward despite how awkward it felt, all the times I chose to do things differently this time. I'm three months away from turning years sober and I'm so excited about what lies ahead.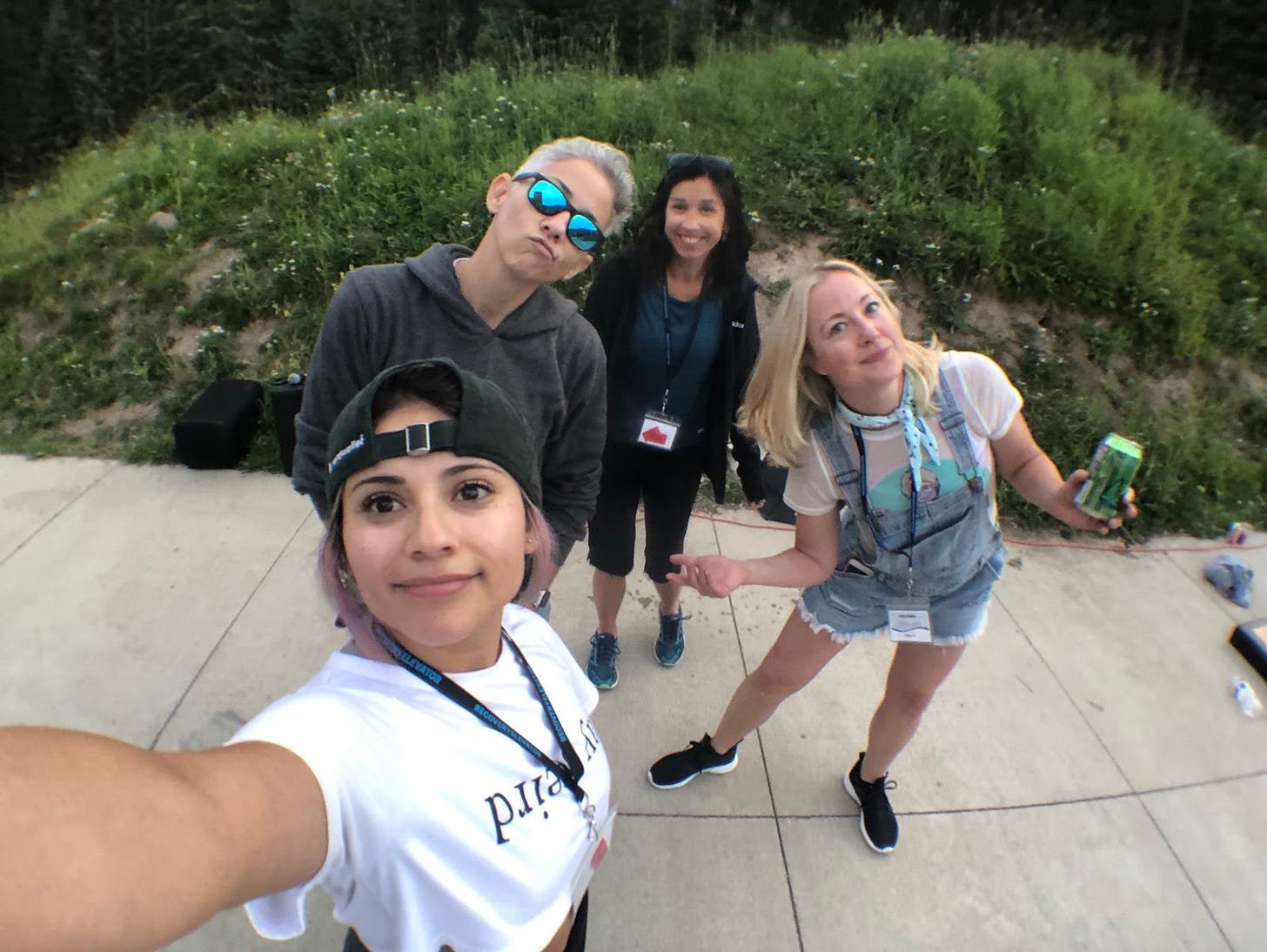 August 2019: Dance party in Montana at a sober retreat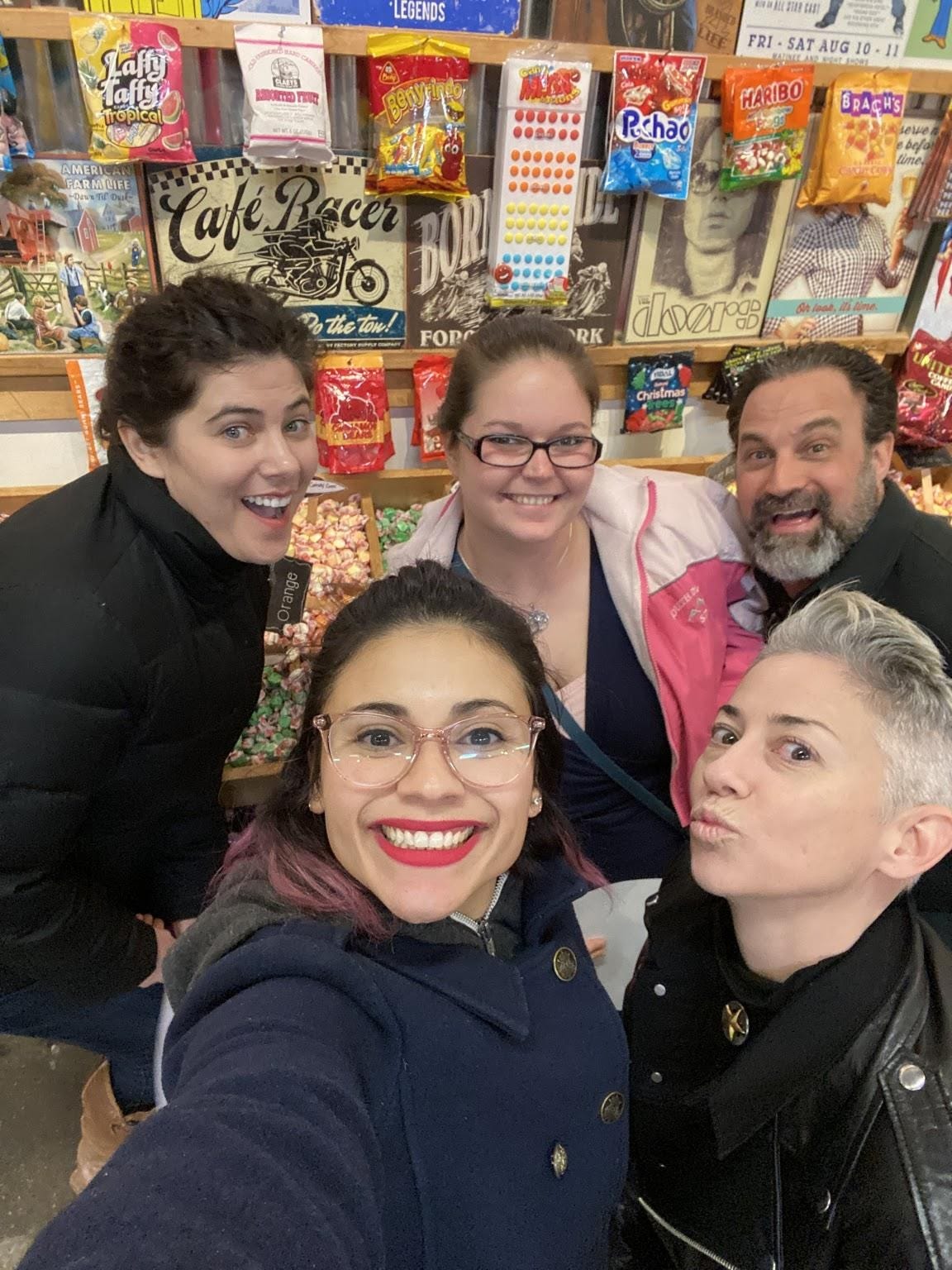 January 2020: My second sober retreat and spending time with new friends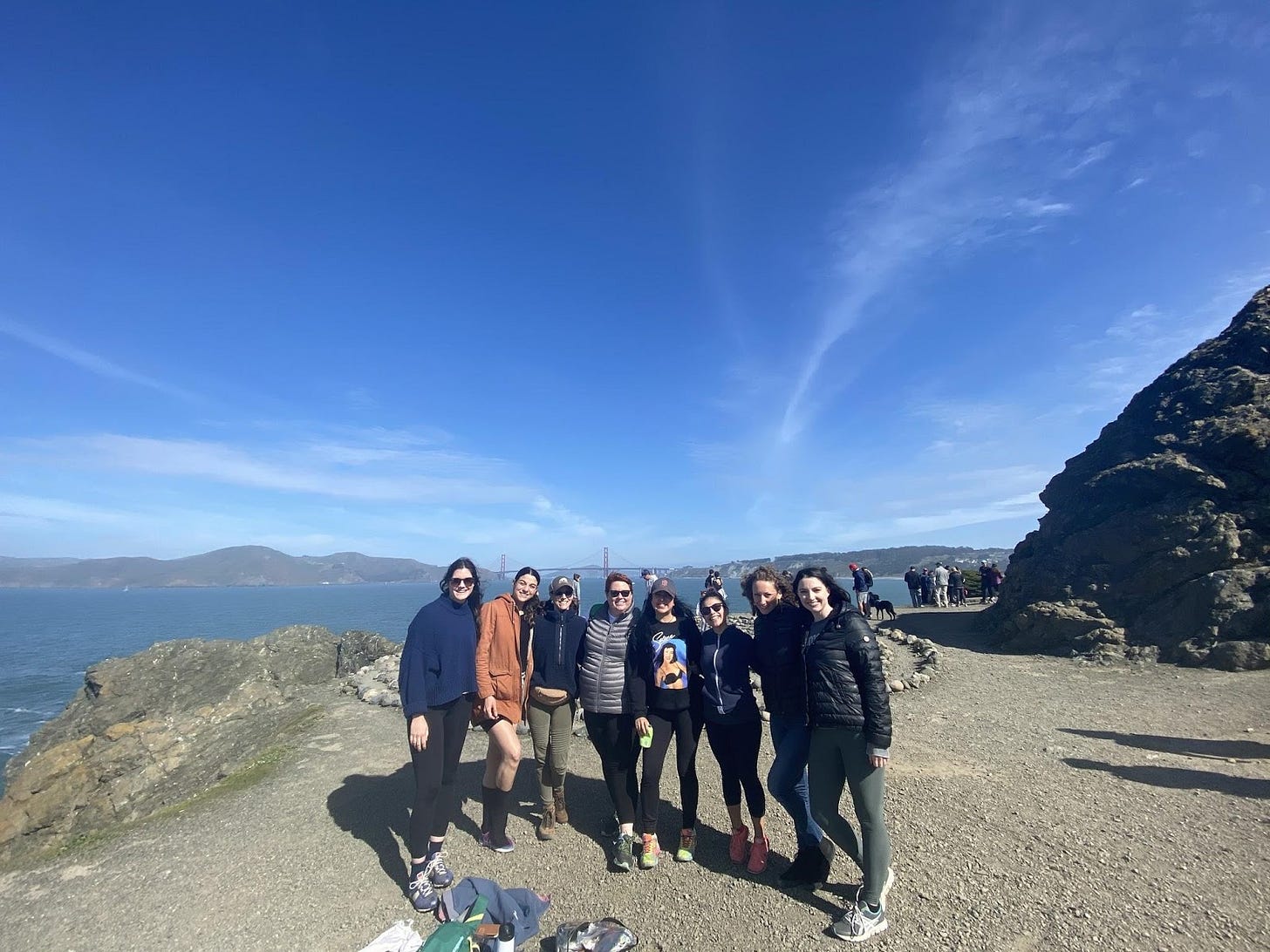 February 2020: First official soberIRL event pre-COVID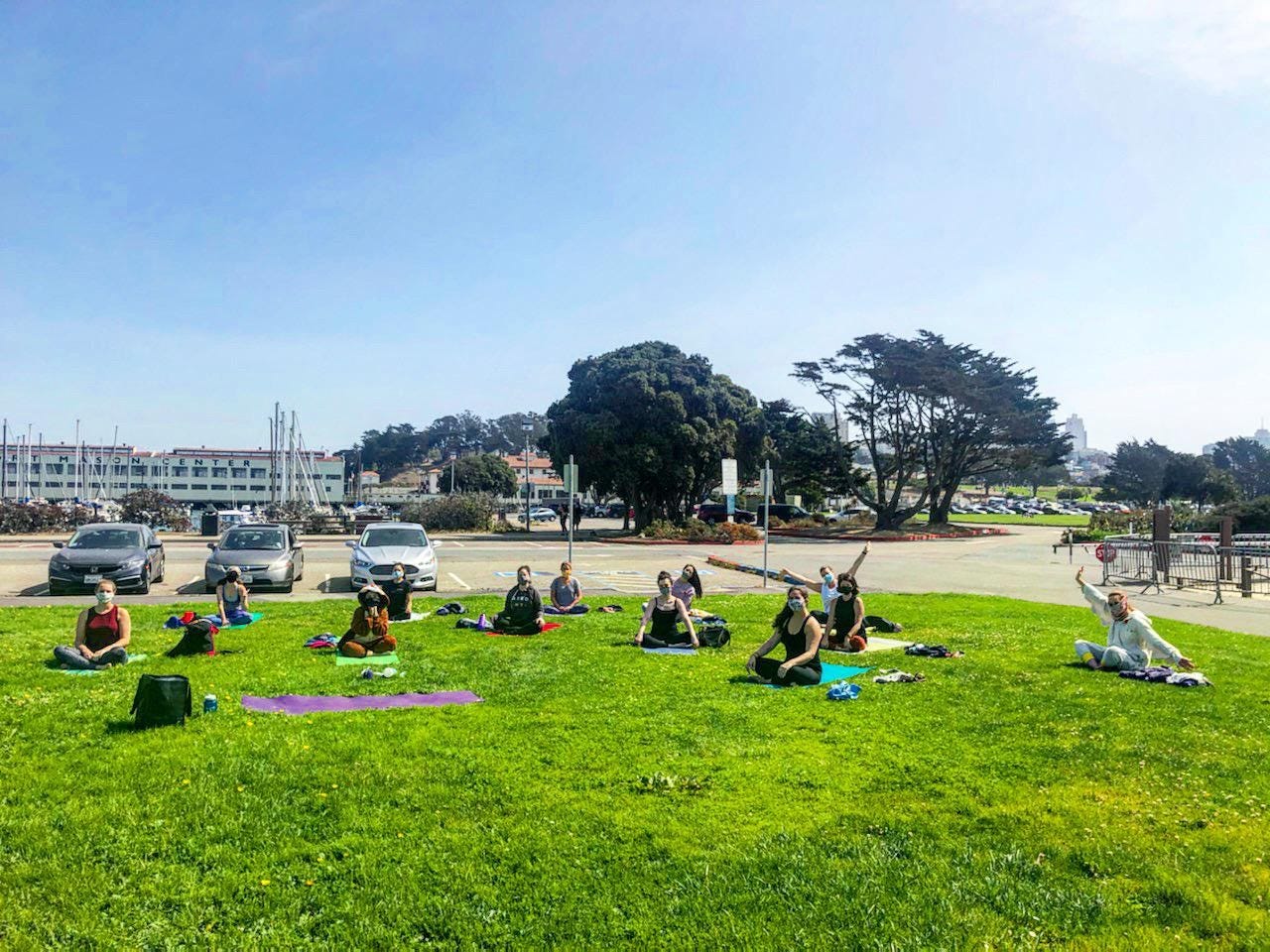 September 2020: Masks on for soberIRL yoga event with 14 women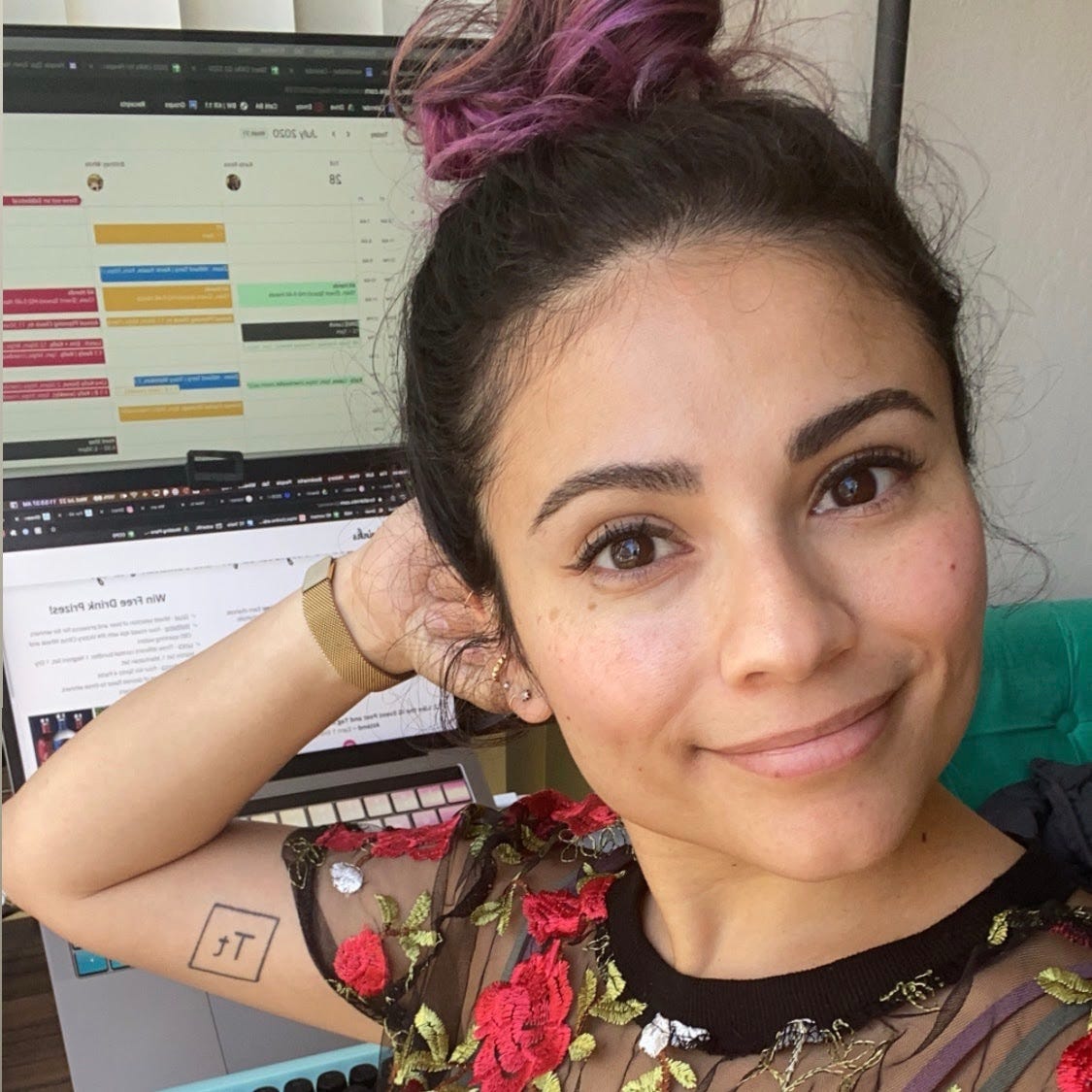 Karla is 34 and by day works as an Executive Assistant at a tech company. She lives in San Francisco with her husband and their adopted pup, Niko.
In her free time she shares her experience as a sober Latina on Instagram to confront the stigma surrounding alcohol-use disorder. Additionally, she's started an alcohol-free community, soberIRL, for sober/sober-curious women in the Bay Area to help foster new connections in the recovery space. 
---
⛓ Related/mentioned links:
Follow Karla on Instagram
Check out SoberIRL online
Post Acute Withdrawal Syndrome (PAWS)
Annie Grace + This Naked Mind
Sobercurious by Ruby Warringon
Never Enough by Judith Grisel
Recovery Happy Hour
Bridge Club
Laura McKowen
---
Slow Motion Sober is a newsletter and community for creative types who are sober or curious about sobriety, and all the life-y intersections along the way. It's written by me, Dani Cirignano, a writer and sobriety advocate in San Francisco, CA. 
SMS is reader-funded. The small percentage of readers who pay make the entire publication possible. 
You can also support me for free by pressing the little heart button on these posts, sharing this newsletter with others and letting me know how this newsletter helps you. Thank you.